Telephone Friendship - Information for volunteers
Find out more about our telephone friendship volunteering role.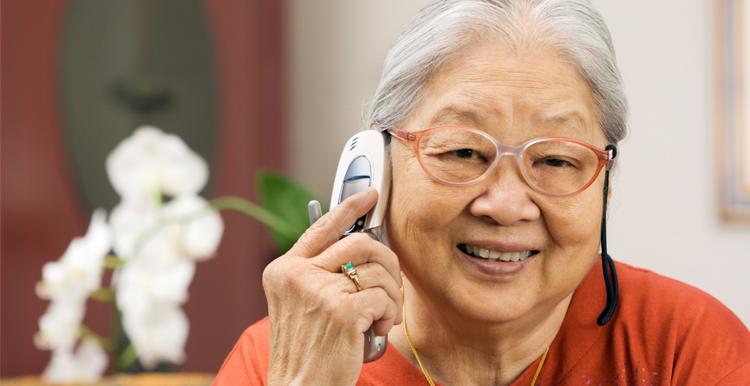 **We are not currently recruiting volunteers for this role**
What does a telephone friendship volunteer do?
As a telephone friendship volunteer you will provide a consistent and reliable weekly telephone friendship call to an older person, encouraging and enabling them to become more confident and, hopefully, to feel less lonely.
As a 'telephone friend' you will have a good sense of humour and the ability to maintain and engaging conversation with an older person. You will have excellent listening skills, and you'll need to be able to show your telephone friend respect, patience, empathy and understanding.
You will build trust and confidence and share your feedback with Haringey Reach and Connect so that we can address any urgent issues like lack of food, medication issues, or acute anxiety and depression.
Requirements of role
To become a telephone friend you will need:
access to the internet from your own home
an email account
a telephone
If you have a disability that may require specialist equipment or support, please highlight this on your application and we will discuss this at your interview. We welcome applications from people with a physical or sensory disability.
Knowledge/understanding
A genuine desire to support older and vulnerable people.
An appreciation of issues facing older people at this time.
An understanding of the need for confidentiality.
An understanding of the need to maintain safe volunteering boundaries.
Skills/abilities
Warmth, understanding, sensitivity and a willingness to listen.
The ability to communicate clearly.
The ability to be supportive and non-judgemental regardless of a person's age, race, ethnicity, sexual orientation, gender identity/reassignment, disability, class, religion or belief, or HIV status.
A flexible and understanding approach to working with older people whose needs may vary or change over time.
To be willing to learn from your own and others' experiences.
Basic IT skills.
Other
To be able to make a regular commitment for a minimum of two months.
A sense of humour and the ability to enjoy and share conversation.
Willingness to undertake further training and supervision as and when requested.
Commitment and an adherence to the Haringey Reach and Connect Equality and Diversity Policy.
Time commitment
We'd like you to commit to one friendship call each week for a minimum of two months, wherever possible. You will have an opportunity to discuss your availability as part of your volunteer interview, including your ability to commit more time if desired.
Main areas of responsibility
Complete the interview and training required.
Make calls to the client(s) assigned to you at the time and day agreed by you both.
Comply with Haringey Reach and Connect record-keeping policies including returning the feedback form on the same day as your friendship calls.
Report any urgent problems or concerns to our team.
Develop and maintain appropriate boundaries of confidentiality with other volunteers, colleagues and older people.
Complete further training as and when required to support you and your volunteering role.
Frequently asked questions (FAQs)
Q. How old do I have to be to volunteer?
A. To volunteer you must be a minimum of 18 years of age. There is no upper age limit.
Q. How long do I have to volunteer for?
A. We ask for a minimum two month commitment in order to ensure continuity to the older people we support during the emergency period.
Q. How much time do I have to commit to each week?
A. We ask our volunteers to commit to one call each week up to a 30 minute maximum, no call should be for more than 30 minutes. However, for many volunteers their commitment can involve more frequent calls to one person or to a number of vulnerable people. The most important thing to remember is that volunteering is something you freely commit to and you will have the opportunity to discuss your availability as part of your volunteer interview.
Q. When am I able to make my friendship call?
A. Friendship calls can be made on any day of the week from 9am to 8pm by agreement with the client. We will discuss the times you are available to call in more detail at the interview stage.
Q. How many people will I support?
A. Our volunteers speak to between one and four (as they choose) people on a weekly basis by making regular friendship calls at a pre-arranged time. You will start with one person to call and can then increase the number if you decide to do so.
Q. What is the recruitment process?
A. Volunteers will be expected to complete an application form, undertake an interview, submit two references, complete training and provide ID – Passport photo page or a driving licence and a recent utility bill showing name and address. The ID can be sent via email or from a photo on a mobile phone.
Q. Where will my interview take place?
A. Interviews will take place on the telephone and last for approximately 20 minutes.
Q. What training will I receive?
A. Training for this role will be available on the internet and include a basic awareness of Safeguarding.
Q. What support will I receive?
A. As a volunteer you will receive on-going support and advice from the Haringey Reach and Connect team.
Q. Will I get paid expenses?
A. Reach and Connect will reimburse any expenses relating to telephone calls if required. We will not reimburse the cost of "pay as you go" phone calls.
Q. Will there be a probationary period?
A. In the current circumstances there will not be a probationary period. However, after your first few calls we will ask for your feedback to make sure you are happy in the role. We will also make random calls to clients receiving the service to ask for their feedback. This enables both ourselves and our volunteers to ensure that the volunteering experience is of benefit to all parties involved.
We are not currently recruiting volunteers for this role.