Accessible days out in the South East
Some obstacles can put us off visiting an attraction. It could be the steep steps and narrow corridors, or how far away the car park is from the place. But some places have made a big effort to ensure their attractions are accessible for all.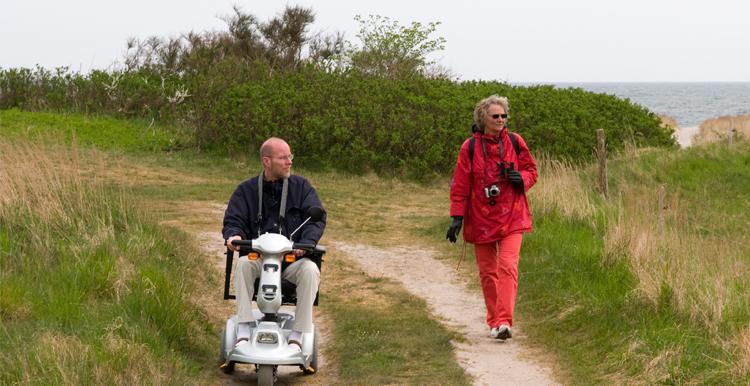 Here are some of the best accessible places to visit in the South East when walking is less easy.
Information from Silver Travel Advisor.
It is worth exploring the website of anywhere you plan to go, and if in doubt, perhaps give them a call. Most places are very keen to do everything they can to ensure every visitor has a great time.
Blenheim Palace
Blenheim Palace near Oxford gets full marks for accessibility. Motorised scooters are available for hire from the palace entrance (some way from the actual building) for exploring the attractive surrounding gardens and estate. This makes perfect sense. Those with visual impairment will enjoy the Touch tour, where you can handle various objects from the collections with the assistance of a trained guide.
---
Ightham Mote
Ightham Mote near Sevenoaks in Kent is a remarkable 14th-century moated manor house complete with a grade 1 listed dog kennel. The National Trust property hires out buggies, however they do require that a volunteer is available to accompany it.
---
Hidcote Manor
Hidcote Manor in the Cotswolds, another National Trust beauty, has several free mobility scooters and wheelchairs, which can be booked in advance or you can try pot luck on the day. The beautiful gardens are not entirely accessible, but about three acres of the grounds can be enjoyed. There are also guides for those hard of hearing.
---
Battle Abbey
If 1066 and all that takes your fancy, then the Battle Abbey in Hastings offers excellent facilities for those with limited mobility and sensory impairment. You can borrow a scooter to meander around the site.
---
Sheffield Park and Gardens
For a rather revolutionary idea and one that's pretty sensible, try a double motorised buggy to enjoy Sheffield Park and Gardens in East Sussex. It makes a great change for anyone who normally pushes a wheelchair user. They can hop in too and enjoy the view from the buggy.
Due to demand, these need to be requested in advance and a donation is asked for too (in lieu of a hire fee). The grounds here are vast and varied, so this mode of transport will really offer a superb chance to discover, in comfort, some of the far flung corners that might otherwise have escaped a wheelchair user and companion.
---
Hampton Court
At Hampton Court, great attention to detail has been paid to ensure that those with limited mobility and sensory impairments have every opportunity to enjoy the palace and gardens, with comprehensive information on the website.
---
Other sights
Denbies Wine Estate in Dorking transports people around the vineyards with a historical audio guide, so slopes and hills present no problem.
Land trains are popular where car parks are at a distance to the main attraction and are used helpfully to ferry visitors between the two. Leeds Castle and also Vita Sackville-West's Sissinghurst Castle in Kent do exactly this.
Even Stonehenge has a land train, with good wheelchair access, which gets right up close and personal with the stone circle. 
The Rough Guide to Accessible Britain is a wonderful mine of information too if you're looking for more ideas.
This article was brought to you by our Silver Travel Advisor.
Free accessible holidays mini-guide
Silver Travel Advisor understands the challenges of restricted mobility. Their free mini-guide brings together holiday companies and cruise lines who provide accessible option, along with a selection of accessible places to visit around Great Britain.