Social prescribing and the power of theatre
Lind, an asylum seeker, improved his mental health and language skills through a theatre company for migrants and refugees.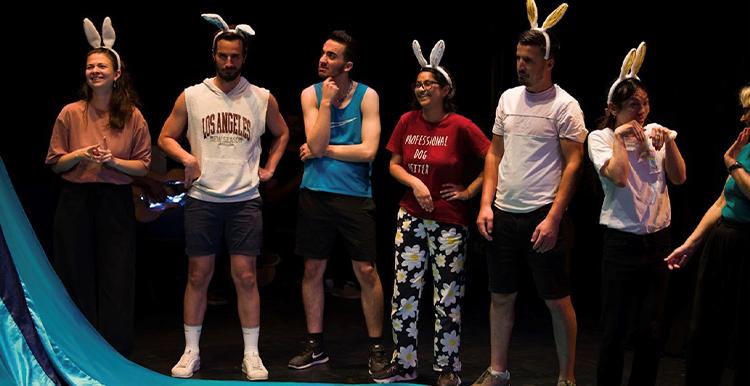 Public Voice manages a team of Social Prescribers, who are based in GP surgeries across Haringey. They support those with long-term health conditions to find extra support and guidance outside of NHS services, taking time to address mental and physical health concerns in a holistic way. In other words, focussing on the needs of the whole person, and what matters to them.  
In January 2023 one of the GP based Social Prescribers was asked to support a young asylum seeker who was waiting to hear about his status. Feeling stressed, anxious, and lonely, he was unable to take part in activities, spoke hardly any English, and spent most of his time sitting in parks. His mental health was feeling the strain and he sought help from his GP. 
Lind was referred to the Social Prescriber who made contact with the help of an interpreter, and it quickly became clear that his priority was to learn English and to play football, one of his biggest passions.  
Through information sharing networks, the Social Prescriber found an organisation called LegalAliens - a Haringey based theatre company made up of migrants and refugees, who create theatre that reflects their complex stories. 
They welcomed Lind warmly, and he quickly integrated himself into the group of actors. Since then, Lind has performed at Jackson's Lane Art Centre, has joined a local five-a-side football team, and his language skills have greatly improved. 
Lind said: "I didn't understand what was happening when I first joined the group, but I quickly liked it as I got to meet new people and try something new. Performing at Jackson's Lane was the first time I had ever been on stage. I was very nervous, but it went really well." 
"Being a part of this amazing group has helped me a lot. I was in a really dark place before, suffering mentally, but when I rehearse with the group, it's like a light at the end of the tunnel. My English has improved, and I have even got to know a little bit more about who I am as a person." 
Lara, the Artistic Director at LegalAliens Theatre, said: "As a theatre company made entirely of migrant artists we know first-hand how displacement and isolation can impact on mental health and wellbeing. Migrants and refugees tend not to have a network they rely on and often don't know about the free support available to them." 
"This year for the first time we had participants referred to us by a GP via their Social Prescriber working from within the surgery. Usually, we receive referrals from colleges or charities, but I believe a closer collaboration between health professionals and arts organisations can be extremely beneficial." 
"Lind, who joined us halfway through our second term, was at first shy, but fast forward four months and Lind is not only perfectly integrated in the group, he's also created a whole character out of the few lines that were first assigned to him."