Boldly changing ideas about ageing
A new book compiles interviews with inspirational older people in an effort to change the many misconceptions about ageing. We speak to Dominique Afacan, the co-author of Bolder: Life Lessons from People Older and Wiser Than You.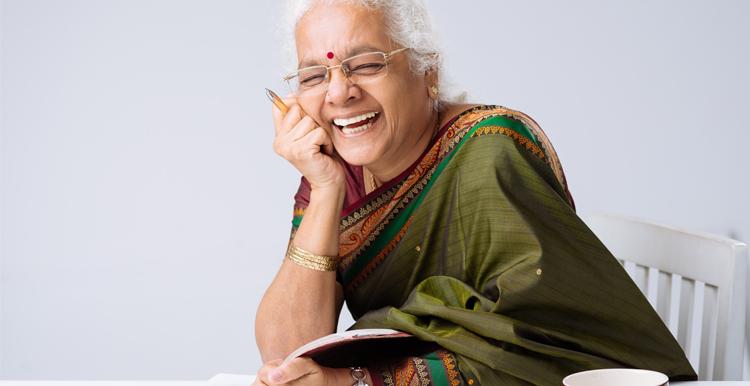 By Age UK. First published on 23rd September 2019.
Dominique Afacan and Helen Cathcart don't mind admitting they started Bolder, a website dedicated to changing attitudes to ageing, because of their own worries about advancing years, through stories and beautiful portrait photography. "Everything we read in the media, saw in films or absorbed in day to day life told us that getting older was something to be feared," says Dominique.
Now the duo have taken many of the things they've learned from older people through their work on the Bolder site and put them into a new book that seeks to undo the ageism ingrained in many corners of society. Bolder: Life Lessons from People Older and Wiser Than You features interviews with 28 people over the age of 70, including some famous faces, like fashion designer Zandra Rhodes and chef Michel Roux. Dominique, a journalist and editor, and Helen, a photographer, have brought together the accounts from these incredible individuals, as they share their unbridled passions, tales of love, and secrets to a long happy life. Here, Dominique explains how they went about it.
Were there older people in your lives that inspired the site's philosophy?
"We had both worked together on a lot of assignments over the course of our careers as a travel writer and photographer. So many times we'd meet these amazing older people while we were away, but they were rarely the focus of the stories we were being sent to cover. We realised there was a gap for all these incredible people and stories that were being ignored."
How did you go about canvasing for interviews? How has that changed over time?
"It wasn't as hard as you might think. There are so many interesting people out there over the age of 70; it's just that very few people are listening to them! The minute we launched, people started writing in to us, recommending their parents, their grandparents or friends. Even the famous people we featured were easy to get hold of and happy to tell their stories."
When did the idea for the book begin?
"I think we always knew it would look good in print. The photography is such a key part of it and it's lovely to see the interviewees' images on the page. We also felt Bolder in book form would make a good gift – the perfect reminder of why it is a privilege to grow 'another year bolder'."
What was your main goal with it? To introduce Bolder to a wider audience? To correct lazy stereotypes about older people and their attitudes, or to instil some positivity at a very negative time?
"All of those things!"
Was it always your intention to make the book about life lessons? Was that something that proved a particularly fruitful line of questioning in your interviews over the years?
"I think we realised that we always came away from interviews with some new snippet of wisdom that we really treasured. The life lessons covered everything from love and health to regrets, success and even death. It makes sense that the people who have spent the most time on earth have a lot of lessons to share, so it seemed a fitting format for the book."
Are the interviews in the book specifically for it, or the best bits of existing interviews?
"Many of them are new but we also included some of our old favourites, including our 87-year-old tennis-playing cover star Muffie Grieve. She has always had a special place in our hearts as we met her at the wedding of our mutual friend who did all the design for Bolder. It seemed like perfect serendipity – and she even flew over from Canada for our book launch party!"
What's your favourite story in the book? Why?
"It's hard to name a favourite story, as all of them have something special about them – but there are certainly stand-out experiences that we both shared along the way. We met Pierre Gruneberg in the Four Seasons Cap Ferrat – he's an 88-year-old swimming instructor, and after our interview he invited us to stick around so he could give Helen a lesson! That was fun. It was also pretty amazing to go bouncing along the fields of Glastonbury in Michael Eavis' Land Rover as he told us his story for launching the festival. Drinking Guinness with [96-year-old philanthropist and mother of Richard] Eve Branson in her garden was another 'how have we ended up here?' moment. And hanging on the beach with our record-breaking sky divers in LA is yet another. The list goes on."
Do you think there are any underlying commonalities with the people in the book, other than advancing years? Do they share some intangible ethos that keeps them going?
"Yes. It was pretty clear to us early on that our interviewees all shared an incredibly positive outlook. That's not to say they hadn't suffered tragedy – most had suffered trauma in some shape or form – but a sunny disposition shone through. As Muffie Grieve told us – 'Life is like tennis. You win some, you lose some and you fight again'."
Bolder: Life Lessons from People Older and Wiser Than You is available now.