'Read and Connect' groups – Improving wellbeing and mental health in Haringey
Following a successful pilot in 2021, Haringey Reach and Connect, through its 'Read and Connect' project, has been working in partnership with The Reader and Haringey Libraries to provide shared reading opportunities and sessions for people over 50.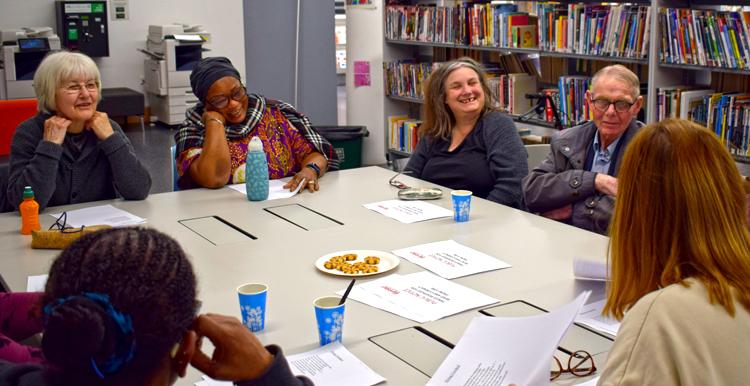 The Reader provides training and ongoing support and development opportunities to the Haringey Reach and Connect team as well as access to its reading resources, and Haringey Libraries provide venues, support and additional resources to enable the sessions to happen.
Three Reach and Connect 'Community Connectors' – Alice, Juliet, and Paul – are trained 'Reader Leaders'. Together, they have established a winning formula setting up groups across Haringey to support both clients and residents to access the reading groups by solving mobility and transport concerns to ensure that everyone is able to access the sessions. Since the end of 2021 these groups have been helping Haringey residents to connect, feel good and live well, leading to improved wellbeing and mental health.
Each reading group is led by a trained Reader Leader who reads a great novel, short story, or poem aloud, this ends with a group chat about what they have read.
Reading the literature aloud in real time means that everyone is involved in a shared, live experience. Group members are encouraged by the Reader Leader to respond personally, sharing feelings, thoughts and memories provoked by the reading, but there is no need for group members to read aloud or speak – it's fine to just listen. The idea is to create a space where people feel at ease.
Everyone experiences the text in their own way, but the literature provides a shared language that can help group members to understand themselves – and others – better. Shared reading can help people to understand their individual and collective inner lives, around the same table, at the same time.
Usually book groups I have been to in the past are intimidating and I will struggle to participate, but I read out loud in this one.
To date, the Haringey Reach and Connect team have led successful reading groups at Tottenham Town Hall, Mind in Haringey and, more recently, co-produced groups with Jacksons Lane and Haringey Libraries at Marcus Garvey Library. These are now sustainable groups led by trained staff members and volunteers, with between 10 and 15 regular group members at each one and a growing waiting list!
Building on this success, Haringey Reach and Connect we will be setting up three new groups in Haringey libraries, including Coombes Croft, St. Ann's, Stroud Green and Harringay branches. Volunteers are needed to become Reader Leaders to help deliver these groups.
Please register your interest at The Reader website here.
These groups will be providing the same weekly reading pleasure as the first groups, as well as providing new opportunities for Haringey residents to give to their community by becoming group leaders to help take these groups forward into the future.
The team recently led a one-off shared reading group for people taking part in Haringey's Community Mental Health Team for Older People at the Winkfield Resource Centre. This group was well received, and several of the attendees are looking forward to joining the new groups.
Read and Connect's diary also includes leading further one-off events working with Tom's Club to deliver shared reading sessions at two events for carers of people living with dementia.
Watch this space for new groups for people living with memory loss and their Carers as well as older people experiencing depression and anxiety.
Thank you for giving me my confidence back. I had lost confidence to read out loud recently and now I have it back.
Candy's story
The shared reading group has become the highlight of my week. The pieces selected are so well thought out and the story and poem always have a common theme which reveals things about each piece by their juxtaposition. I actually got to read my first piece by Dickens which I found very thrilling. It was also a great introduction to poetry; a medium that I have always failed to understand until now.
This year has been hard with the death of my husband and a possible diagnosis of Parkinson's, let alone the pandemic, so it was heartening to meet up with other people who are also dealing with health problems. The group is well attended for every session, so I'm not the only one who enjoys it to the full. Thank you so much for organising it!
Filiz Emre, London Partnerships Lead at The Reader, has been working with the Reach and Connect team to get the expanded project up and running.
Sean Robinson's volunteering story
The aim of the pilot project was to connect up to twelve people from the Haringey area over eight weeks using the power of literature. I was privileged to be the volunteer supporting the group and on my first day I was curious to see who would turn up. What will they look like? Would they all get on? Would I recognise the readings? How would the sessions work?
Paul, a Community Connector from Haringey Reach and Connect, helped by his colleague Alice, led the session with calm assurance and read the first short story. Over the next hour the participants found their voice – some quickly, some slowly – and everyone contributed. It was amazing to see how a piece of writing sparked memories, imagination and experiences.
I was also invited to contribute my own thoughts on the literature, and it was eye-opening to see people's personal takes on the text and how writing can provoke different emotions and ideas in each of us.
Over the sessions it was fascinating to see how the participants – from all walks of life, education, and backgrounds – grew in confidence with a shared sense of ease of and comfort. It also became apparent that their experience with the reading group was having a knock-on effect to other aspects of their lives. There were practical things like meeting each other at overlapping activities or having friends in common but the most heart-warming was hearing tales of them practicing new-found or reawakened skills and capabilities.
The most poignant moment for me was that, to a person, they were exceptionally proud of their community and where they lived. I don't know what the future holds but I'd love to see these groups take off as it was remarkable that in such a short time the group bonded and, even in some small ways, their lives seemed transformed for the better.
It's been wonderful to see how people have responded so positively to taking part in Shared Reading, which is building confidence and meaningful connections with other people and reawakening their skills and imagination. We're delighted to be collaborating with Haringey Reach and Connect so that more older people in Haringey are able to benefit from the power of Shared Reading.
Coming here has helped me go to other places and reconnect with my friends.