M WORD training course ends with celebration
We held our final M WORD menopause training session on 17th February 2020 and celebrated with a feast and flowers!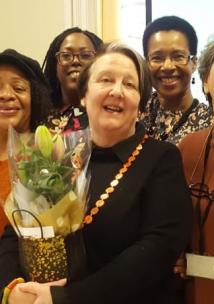 In total, 14 women attended sessions with representatives from Hornsey Vale Community Centre, Carers First, Asian Women's Group and professionals such as a Local Area Coordinator and Social Prescriber.
Outcomes include:
Two Haringey Reach and Connect volunteers intend to set up a Menopause Café.
Hornsey Vale Community Centre is running four evenings on the topic as part of International Women's Week.
Haringey Reach and Connect is participating in Haringey's International Women's Day at Broadwater Farm Community Centre on Sunday 8th March.
A further training course will run in the spring funded by Haringey Council
Two participants would like to support Social Prescribers with a coffee mornings in local GP practices.
Two participants will incorporate information sharing in to a programme of healthy walks and talks at The Bridge Renewal Trust.