Connection Matters Conference
On Friday 16 June 2023, Public Voice and Haringey Circle held the Connection Matters Conference, as part of a week-long programme of events for Loneliness Awareness Week.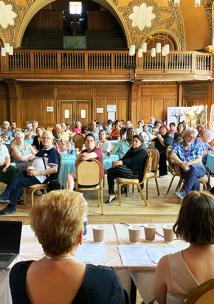 The Conference brought together over 100 attendees to celebrate the immense power of community and connection. Policymakers, professionals, and the public, gathered to collaborate on addressing pressing local issues related to loneliness.
It served as a platform for meaningful discussions, sharing of insights, and the development of key recommendations to combat loneliness in
Haringey.
This report aims to outline the significant recommendations, barriers, and insights gathered during the event, highlighting crucial steps to end
loneliness in Haringey. We hope the Conference encourages everyone to reflect on their personal experience of loneliness, and identify
proactive steps to manage such feelings, nurture social connections, and create positive change.